Assalamu'alaikum readers :)
seriously, i am not good in managing two blogs at the same time. alasan saja tu banarnya :p honestly, i am not good in time management. shall attend a special school for this huh? lol. actually, i have another blog which mostly touch on my personal life. i am active updating that one. but from now on i will try my best to look after this abandoned baby. HAHA!
okay, for today's comeback entry i wanna talk about food. the actual fact is i am hungry right now. but can't eat nor drink because i am fasting. never mind, later iftar at Polo Jerudong aku will bedal semua makanan as it is a buffet. mudahan nyaman2 the food there. i think the food should taste great because it is free. lol. it's other people's treat so my money stay safe inside my quite-thick-because-there-are-more-cards-than-money wallet. HAHA!
okiee dokiee, i would like to share cream puff recipe. sodapp sampai menjilat kaki :p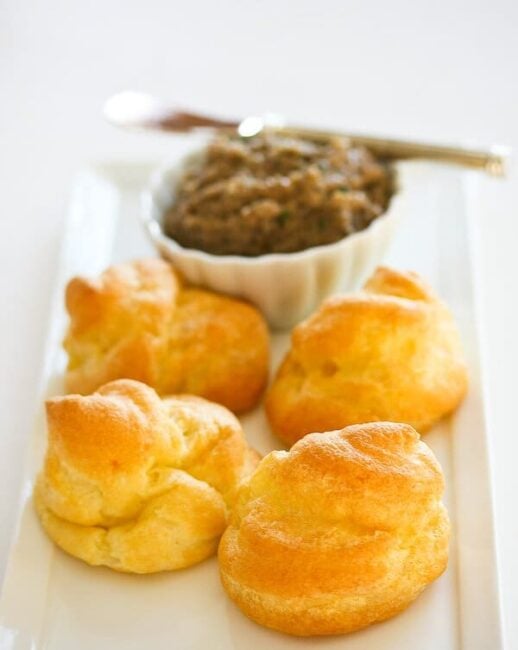 photo credit to Steamy Kitchen.
Put butter and and water into saucepan on low fire. Turn off the fire once butter has melted.
Add in flour and salt. Stir quickly until a dough it formed and does not stick to the saucepan.
Leave to cool for about 10-15 minutes.
Beat in eggs one at a time on a cake mixer (low speed) till mixture is stiff.
Using a ice cream scoop or teaspoon, scoop the dough onto a greased baking sheet.
Bake in a preheated oven at 190 celcius for 10 minutes. Reduce temperature to 170 celcius and bake for another 15 minutes.
Turn off the heat. Leave the puffs ito cool n the oven for another 20-30 minutes.
Add yolks, 1/4 cup milk, vanilla beans, salt, cornflour in a bowl.
Bring the remaining 3/4 cup milk to a scald in a saucepan. Pour the hot milk in small stream into the egg mixture, whisking consistently with a balloon whisk as you pour. Once incorporated, pour everything back into the saucepan.
Whisk the mixture over over medium heat until it thickens and firm up. Remove the heat and whisk in butter.
Once it reaches room temperature, scoop the creme into a piping bag or container. Refrigerate until ready to use.
below are my photos collection of food and some drinks which i paid for. some were other people's treat. fyi, if i go eat in a restaurant i seldom order for noodles. always rice. rice is my staple food. haa *dry laugh*
'Nasi Katok' @ Knocked Rice :p
'Roti Papa/Mama/Baby John' :p i believe it was a Baby John Bun.
Bandung Jakarta Indonesia Drink :p Bandung Drink actually.
countless chicken satay sticks. countless? liar :p
yam+chocolate=wrong combination. HUWAA :(
'Nasi Lemak Special' was beautifully prepared.
me & kimchi fried rice. deliciousssss baby :p
ENJOY YOUR WEEKEND & TATA :D